Interpol has issued Red Notice for former Central Bank Governor Arjuna Mahendran in connection with the investigations being carried out by the CID on the central bank treasury bond scam. MORE..


20 Apr 2018 (3:08 PM)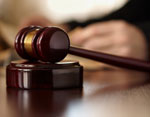 The manager of the rubber factory in Horana, who was arrested over the death of 5 persons in the ammonia tank incident yesterday, has been ordered remanded until April 25 by the Horana Magistrate s Court. MORE..


20 Apr 2018 (3:11 PM)



The Sea area from Puttalam to Batticaloa via Galle will be very rough with waves 2-3 metres high, announced the Disaster Management Centre.MORE...


21 Apr 2018 (3:45 PM)



The Police Special Investigation Unit (SIU) arrested four persons for the possession of Kerala cannabis and Hash worth Rs. 35 million.MORE...


21 Apr 2018 (7:20 PM)



Achieving a sustainable future is as in many other countries, a main concern of the Government of Sri Lanka, said President Maithripala Sirisena intervening in the Commonwealth Heads of Government Meeting Session. MORE..


20 Apr 2018 (10:06 PM)