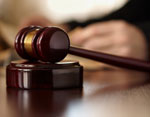 The manager of the rubber factory in Horana, who was arrested over the death of 5 persons in the ammonia tank incident yesterday, has been ordered remanded until April 25 by the Horana Magistrate s Court. MORE..


20 Apr 2018 (3:11 PM)



A University student drowned when his boat capsized, while engaging in water sports, in Kelani River off Ginigathhena, Kalugala, Yatiberiya area, yesterday (20). MORE...


21 Apr 2018 (2:31 PM)



The Police Special Investigation Unit (SIU) arrested four persons for the possession of Kerala cannabis and Hash worth Rs. 35 million.MORE...


21 Apr 2018 (7:20 PM)



The Central Environmental Authority (CEA) has decided to temporarily suspend operations at the rubber factory in Horana, where 5 deaths occurred yesterday. MORE..


20 Apr 2018 (5:51 PM)



Interpol has issued Red Notice for former Central Bank Governor Arjuna Mahendran in connection with the investigations being carried out by the CID on the central bank treasury bond scam. MORE..


20 Apr 2018 (3:08 PM)