A female employed as an Accountant at a bank in the Gampaha area who is accused of financial fraud amounting to Rs 20 million has been arrested in Kegalle by the Criminal Investigations Department (CID). MORE..


20 Apr 2018 (6:25 PM)



In the wake of outrage over the brutal rape and murder of a minor in Kathua, Jammu Kashmir, the Union Cabinet headed by Prime Minister Narendra Modi today (21) approved an ordinance to allow courts to pronounce the death penalty to those convicted of raping children up to 12 years of age.MORE...


21 Apr 2018 (7:38 PM)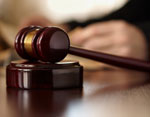 The manager of the rubber factory in Horana, who was arrested over the death of 5 persons in the ammonia tank incident yesterday, has been ordered remanded until April 25 by the Horana Magistrate s Court. MORE..


20 Apr 2018 (3:11 PM)



The Sea area from Puttalam to Batticaloa via Galle will be very rough with waves 2-3 metres high, announced the Disaster Management Centre.MORE...


21 Apr 2018 (3:45 PM)



A 59-year-old mother and her 40-year old daughter have been stabbed to death at Mapakadawewa in Mahiyanganaya last night (21), Police reported.MORE...


21 Apr 2018 (11:05 AM)