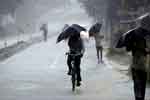 Windy condition over the island, particularly in Central hilly areas, Northern, North-central and North-western provinces and in Trincomalee and Hambantota districts (up to 50 kmph) at times and showery condition in South-western part of the island is expected to continue. MORE..


25 Aug 2019 (10:15 AM)



Not announcing the presidential candidate of the alliance led by the United National Party is unfair for the public, says Minister of Megapolis Western Development Patali Champika Ranawaka. MORE..


24 Aug 2019 (3:01 PM)



The train services along the up-country line have been temporarily disrupted due to a train derailment between Gampola and Ulapane railway stations, says the Railway Control Room. MORE..


24 Aug 2019 (3:13 PM)



The Ministry of Defence, issuing a special press release today (24), stated that lifting the State of Emergency will not have any impact on the ban imposed on terrorist organizations. MORE..


24 Aug 2019 (9:28 PM)



Veteran fast bowler Lasith Malinga, who recently retired from ODI cricket, will lead Sri Lanka in the three-match T20I series against New Zealand, beginning on 1 September in Pallekele. MORE..


24 Aug 2019 (6:07 PM)