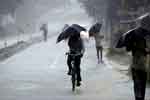 Windy condition over the island, particularly in Central hilly areas, Northern, North-central and North-western provinces and in Trincomalee and Hambantota districts (up to 50 kmph) at times and showery condition in South-western part of the island is expected to continue. MORE..


25 Aug 2019 (10:15 AM)



Brazil s president has ordered the armed forces to help fight a record number of forest fires in the Amazon. MORE..


24 Aug 2019 (1:51 PM)



The age of marriage should be revised up to 18 years when the Muslim Marriage and Divorce Act is amended, says The New Wings organization. MORE..


25 Aug 2019 (1:46 AM)



A group of Navy personnel has apprehended 983g of drugs suspected to be Cocaine at Vankalai area in Mannar early this morning (24). MORE..


24 Aug 2019 (3:56 PM)



Not announcing the presidential candidate of the alliance led by the United National Party is unfair for the public, says Minister of Megapolis Western Development Patali Champika Ranawaka. MORE..


24 Aug 2019 (3:01 PM)