Chairman of International Cricket Council (ICC) Shashank Manohar has called on President Maithripala Sirisena yesterday (23). MORE..


24 Aug 2019 (6:51 PM)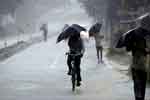 Windy condition over the island, particularly in Central hilly areas, Northern, North-central and North-western provinces and in Trincomalee and Hambantota districts (up to 50 kmph) at times and showery condition in South-western part of the island is expected to continue. MORE..


25 Aug 2019 (10:15 AM)



The train services along the up-country line have been temporarily disrupted due to a train derailment between Gampola and Ulapane railway stations, says the Railway Control Room. MORE..


24 Aug 2019 (3:13 PM)



In Sri Lanka s political terrain, national security and the presidential race are the main talking points this season, both bringing a measure of anxiety for many. Almost lost in that buzz is the quiet achievement of a team of Sri Lankan scientists in outer space. MORE..


25 Aug 2019 (4:01 PM)



The Navy on yesterday found beedi leaves form a dingy which was in distress in the seas northwest of the Talaimannar lighthouse, due to rough sea conditions. MORE..


25 Aug 2019 (5:05 PM)